Having done our workbooks in advance this year, we were able to enjoy the workshops without scrawling all over the place. Joel went to the teen workshop and I can't tell you what they talked about because I wasn't there. I'm sure it was about how to make government good, why HS'ing is important and how to impact our leaders. To start with we prayed and sang these verses of the 'Star Spangled Banner'. In case you don't know, the first verse is a question and the last verse is the answer:
Oh, say, can you see, by the dawn's early light,
What so proudly we hail'd at the twilight's last gleaming?
Whose broad stripes and bright stars, thro' the perilous fight,
O'er the ramparts we watch'd, were so gallantly streaming?
And the rockets' red glare, the bombs bursting in air,
Gave proof thro' the night that our flag was still there.
O say, does that star-spangled banner yet wave
O'er the land of the free and the home of the brave?
O, thus be it ever when freemen shall stand,
Between their lov'd homes and the war's desolation;
Blest with vict'ry and peace, may the heav'n-rescued land
Praise the Pow'r that hath made and preserv'd us as a nation!
Then conquer we must, when our cause. it is just,
And this be our motto: "In God is our trust"
And the star-spangled banner in triumph shall wave
O'er the land of the free and the home of the brave!
There were probably 300 people in the church.
Our speaker started by talking about the founding of America and why it is important to see the link between God and government. They did this exercise of the 3 umbrellas.
One is civil govt., one is the church and one is the family. Then he added papers to the umbrellas when the kids shouted out where they belonged. Whose job is it to catch criminals? Civil govt. Whose job is it to send missionaries? The church. Whose job is it to educate and discipline children? The Family. He added about 3 things to each (like defend borders, take care of grandparents, and appoint pastors) and then we talked about what makes a government good or bad. We talked about anarchy and tyranny.
In this skit the lady experiences tyranny; the government doesn't protect her from the bad guy and the govt. takes away her money (that was stolen) from the bad guy and keeps some of it.
We talked about America in the 1600's when the puritans and pilgrims came to our shores. The speaker asked each person on stage what they were contributing to. This girl is serving her parents and by being a good daughter she is contributing to the Godly foundation of America.
The person behind her was a widow who taught women at the church, she was building Godly foundations by teaching the word of God and telling young women how to be good mothers and wives. Then we fast forwarded 400 years and the same people came out in today's clothes. The girl that was serving her family now serves herself.
She is selfish, rude and hates her family, on the way off the stage she kicked over the blocks representing Godly foundations. And so on it continued until there were no blocks left. The speaker told us that we can rebuild the foundation, but we must have the cornerstone of Jesus. We can reclaim a good government, but we must raise up Godly leaders in our children. It was a very good presentation. We were sitting in the upper deck at the Pillar of Fire church.
This is a very cool, old church; I think it was built in the early 1900′s, I tried to find more info. on it but couldn't. Here is the dome ceiling and here is a beautiful stained glass window.
It is very appropriate that we were sitting in a church, reading God's word and being encouraged in the path of Homeschooling. We got the patches for the workbooks and then went over to Subway. An hour seems really fast when you have to walk 3 blocks, eat and then walk 2 blocks back.
We made it back to the Capitol steps just in time for the rally. This pic doesn't do it justice, but there were about 1,500 people there.
We again opened in prayer and the 'Star Spangled Banner'. Click to hear that second verse.
The CAP mustang squadron posted the colors and our speaker introduced some senators and representatives that are on our side, yay! (And I'd like to add more there than 2 years ago.)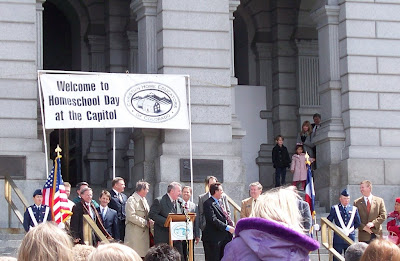 Among them was Sen. Ted Harvey (whom we met at the cyber school day at the capitol.) He was awarded the statesman award for being so in tune with Homeschooling and helping to pass legislation that helps us. Like the House bill that was passed this morning. It's basically the same bill that already allows Homeschooling, but there is a sentence in there about 'the parent not being required to have teaching credentials', put in there specifically because of the whole CA thing. Also did you know it's the 20th anniversary of the Homeschool law in Colorado? Me neither! Before 20 years ago Hs'ing in Colorado was a different thing. You had to request permission to teach your children, be beholden to the choices of others in your curriculum, be worried about whether a truant officer would knock on your door during the day, keep your kids inside until the school kids got home for fear that someone would find out you were HS'ing and you could even go to jail!
We need to wake up everyday and say Thank God we live in a country where people have pressed their leaders to allow Homeschooling as a basic right of families. Even the decision in CA is being looked at again and in all probability will be overturned and made only to be attaché to that specific family. We are blessed as a nation, but we must not forget the roots we came from. Those who came before us and trudged the hard path to make it easier for us. We must not give up rights and think that it won't ever become like it was in the 1980's, it can, but hopefully as we raise up children who are HS'ed and more and more people find out that we aren't crazy, legislators and judges will take note and be on our side. Colorado is a very HS friendly state and CHEC did a wonderful job again at HS day at the capitol. If you live in Denver you are blessed with the ability to go see your representatives in the capitol building. I encourage you to find out who represents you and go meet them. You can look here to find your Rep. and here to find your Senator. Maybe they have never met a HS'er and you will show them that this is something you deeply care about and they should too. We must not forget that we are in the minority, but that with a strong voice others will have to listen to us.